As a 10-years-experienced manufacturer of coffee bag located in Qingdao, china , we are so proud of this matte white 12oz coffee bag, as it is highly appreciated with many coffee beans roasters and brands.
With this full body matte white coffe bag, the customers will be able to present their new items onto the market, and just label them. A great attactive package, however lower cost.
12oz Coffee Bag Dimension
This 12oz coffee bag is in flat bottom bag, also called box bottom bag, or 8 edged sealed bag, with dimension shown as below graphic.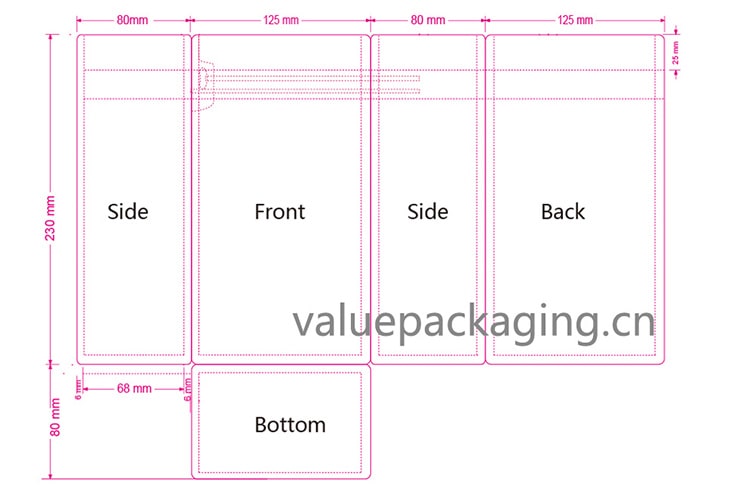 The size is W125*H230+BG80+SG80 (BG is short for bottom gusset, and SG is short for Side gusset), with edge seal width 8mm, 25mm distance between the opening edge and the top of tab zipper.
Let's have a look at the filled effect of this bag with 12oz roasted coffee beans.
Foil Structure

For this coffee bag, we choose this reinforced foil structure than common PET/AL/LDPE foil, that is more rubost in delivery transit and distribution process. Of course, this PET-AL-PET-LDPE-foil will peroform better when a degassing valve will have to be applied inside the coffee package.
Human Food Health
Each materials we use is aginst to human food health, and subject to SDS report and SGS test. you may read more here about our raw films, inks and adhesive.http://www.valuepackaging.cn/human-food-grade/
Matte Finish Quality
Matte finish is able to create a higher level visual effect for the standup pouch, that is widely used in coffee beans packages. The requirement is relatively higher for the matte finish on the full body of the package, as any stain would be a serious damage to the overall profile, just imagine an ink spot on a pure white A4 paper.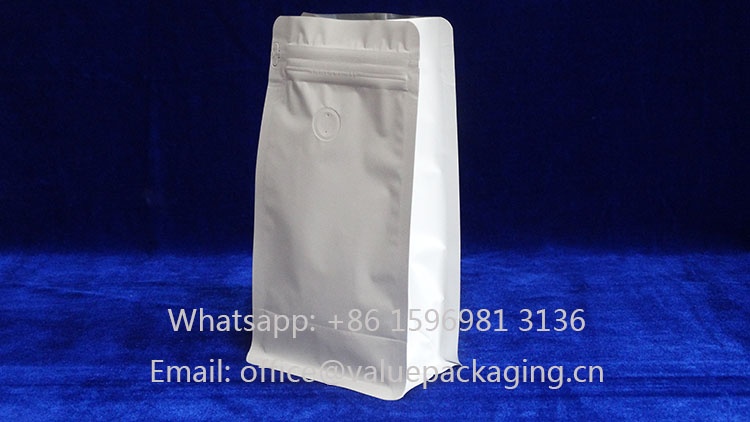 Scratch Lines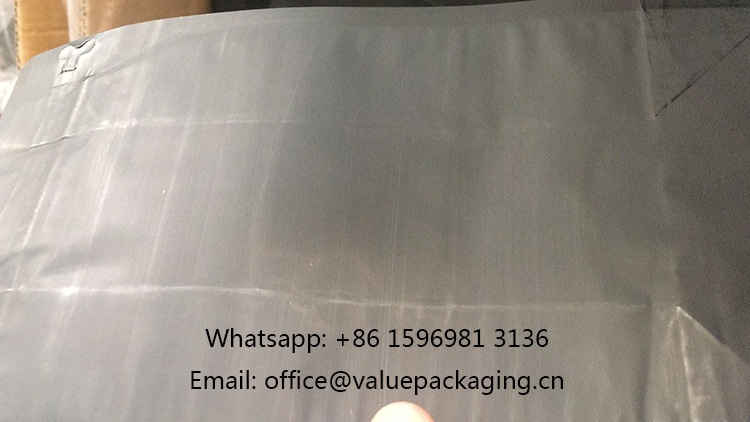 Scratch lines on the surface are really annoying as they will ultimately destroy the expected ideal profile for your final coffee products. No matter how carefully your coffee is roasted, how attractive smelling when the consumers just press their nose against the degassing valve, the ugly package just block people from knowing more about it.
So, we pay much efforts to remove the scratch lines on the package, especially the matte white or black bags. We are doing our best to realize the expected ideal package for our customers, and you may have a look on our matte white bag.
Smoothe Zipper
When the tap zipper is included into the laminate foil of the package, the zipper place may hump and even wrinkle, that will cause the package not so beautiful. Luckily for us, we have mastered the craftsmanship to realize smoothe zipper as beautiful as any customer wish.
Easy Tear
For our coffee bag, it is very easy to tear and then realize re-close after opening. As you can watch the video below, after the tab zipper is torn, a straight line is left on the package, very beautiful.
No adhesion for side gusset
The matte finish is realized by coating a matte ink lacquer on the outside surface of PET film, so when the side gusset is folded on the bag-making machine under high temperature and certain pressure, the side gusset may adhere to each other if the achieve of matte finish is not so good. When the side gusset adhere to each other, that may cause the coffee bag not able to be open on the filling machine.
so you can check our coffee bag in below video. No adhesion at all.
Neat Valve Welding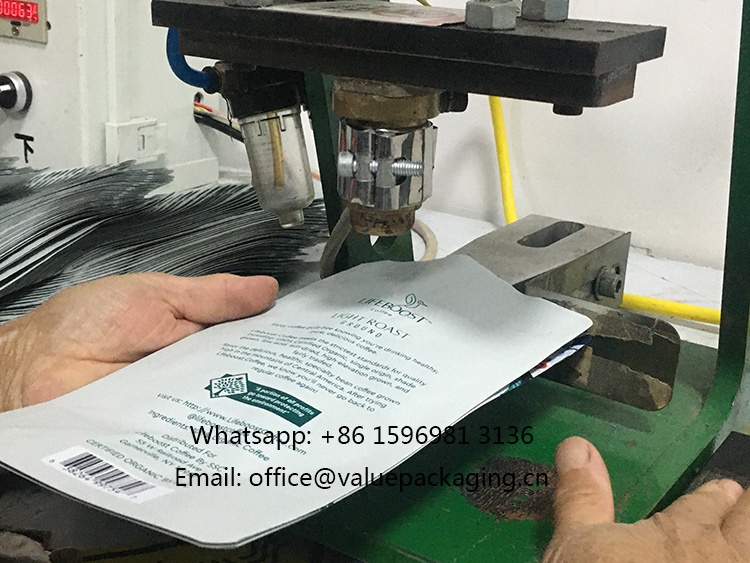 The degassing valve will have to be welded onto the package under certain temperature and pressure for a period of time, like 0.8~1.2 seconds, with the heating mold. As this operation is usually achieved by manual labor in most factories, if the workers are not so skilled, or not so responsible, that may casue some of the welding not so neat and clean.
You can check the neat valve welding for our matte white coffee bag
Large Opening For coffee beans fillinig
This large opening enabled the filling process of coffee beans much easier, that improves the filling efficiency.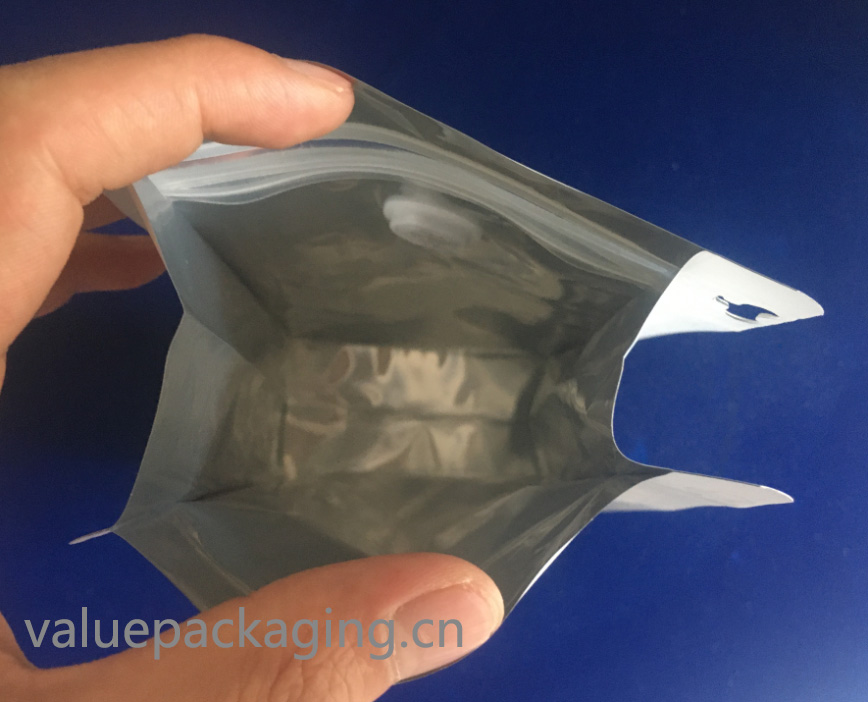 You may also be able to download the PDF presentation of this 12oz matte white coffee bag and show to your partner.
If you have any other questions regarding this coffee bag, just reach us for further assistance. We believe our factory should be an ideal producer for your coffee packages in China.