A one-way degassing valve is always connected with a package of coffee beans, as within the two weeks after the beans are roasted, there will be carbon dioxide emits out which will flush into the package, and a degassing valve will help the extra gas to escape from the package, to avoid the package from over blown up. And what's more importanly, a degassing valve enables the consumers to smell your beans outside the package before he purchase, any coffee roaster would never be willing to risk losing customers just by a nose distance.
Theory of one-way degassing valve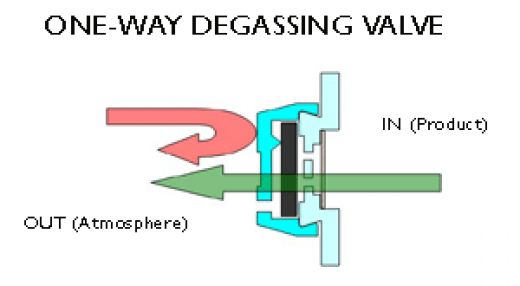 When the atmosphere pressure of outer package and inside package is the same, the tiny round rubber sheeet (the black vertical block in below graphic) stays smoothe. When the carbon dioxide is emitted from the beans, that cause the atmoshere pressure increases, that will force one part of round rubber sheet to bend up, and further let the gas out. However, the increase of outer atmosphere pressure will not cause the tiny rubber sheet to bend in, as all the circle of the round rubber sheet is backed up by the solid base, so air is not allowed into the package.
One-way degassing valve for roasted beans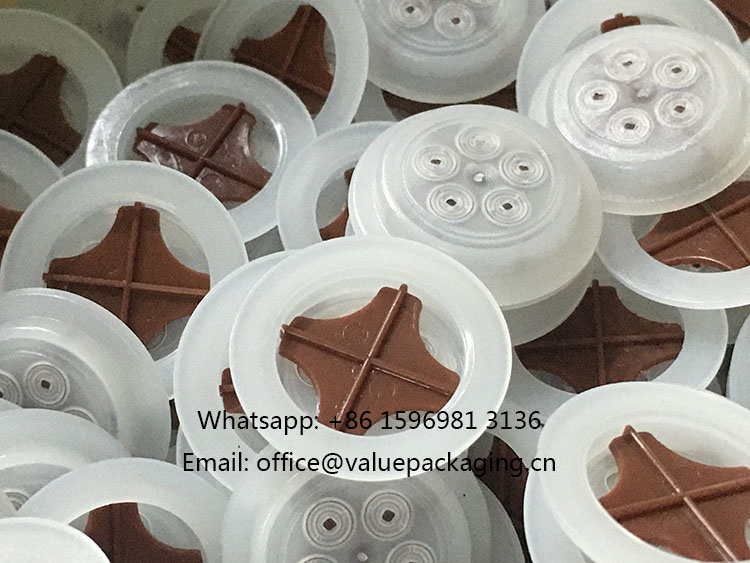 This is the most used one-way degassing valve for our coffee bags for so many customers, And after so long a time, it approves to be reliable working. It is thinner than some valve, that allows to hold more coffee bags in a single carton. More importanly, the green cross works as an effective suport to the small round rubber sheet, that avoid the rubber sheet from falling off under certain inside pressure.
We ever have a true customer case with the falloff of the rubber sheet from the degassing valve, that caused the coffee powder come out the degassing valve, which is very bad impact for the coffee profile. You may read more here about the failure of degassing valve on coffee packages.
One-way degassing valve for coffee powder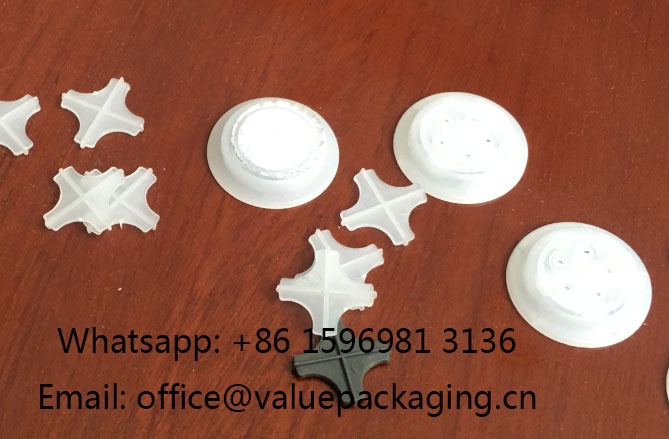 A layer of non-fabric layer will have to be applied over the degassing valve as the coffee powder may penetrate into the valve and block the tiny gap when the round rubber sheet bends up, that will cause the inside air not able to emit out.
When a degassing valve is choosen, the left work is to weld it onto the coffee packages.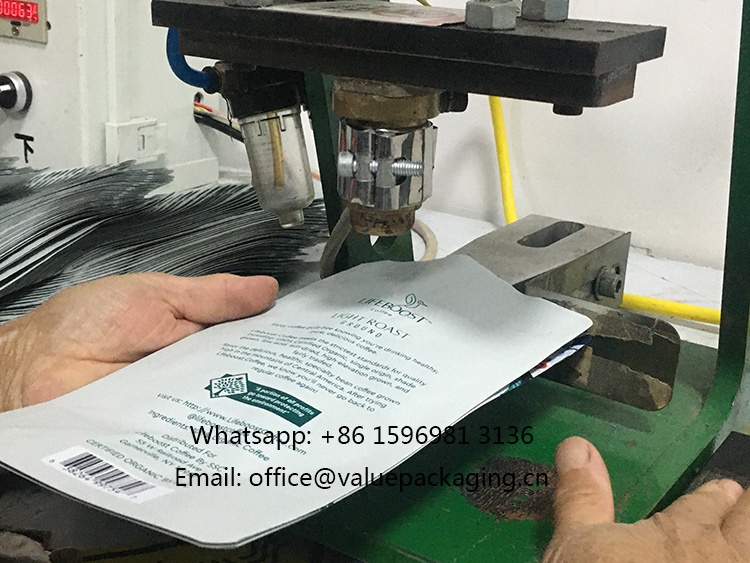 Anyway, the welding of the one-way degassing valve should be neat and clean, a forever perfect package for your beans.
Degassing Valves We Use
Here we give an overall introduce on the degassing valves we are now using for our coffee packages.
We are trying to meet the very expect of the customers. Any questions regarding the degassing valve, you may reach us for further assistance.