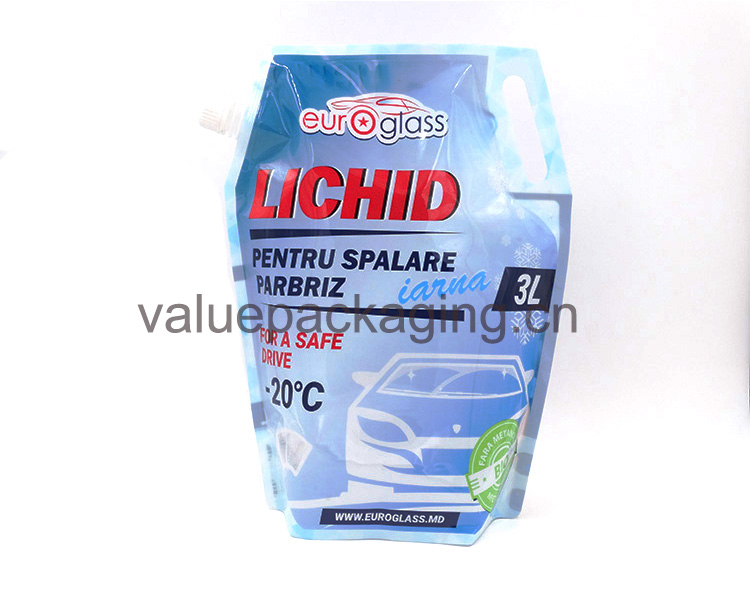 3liter spout doypack is widely used for washer fluids, liquid laundry detergent, fruit juice, liquid fertilizer. As a professional producer for spout doypacks, we are fully obligated to ensure the fundamental quality for the package of 3liter liquid proudcts, as you will never imagine the unexpected leak or beak of the spout doypack in filling or distribution process.
So that's why we launch this article, to give the customers a clear understanding on how to evaluate the quality of 3liter spout doypack.
1 Bag Strength
The first most important point for the 3liter spout doypacks is great bag strength, that will hold the 3kg weight, and never break or leak in filling and distribution processes.
In order to realize the 100% quality ensure, we really put much energy in our daily work, and perform a strict quality control procedure for the production, and we also need to perform regular tests on each batch of the spout doypacks.
One of our regular test is fall down test, take 3liter spout doypack for exmaple, we need to fill 3liter water into the spout doypack and well capped, and then fall it down from 2 meters high for 3 times, it will never break.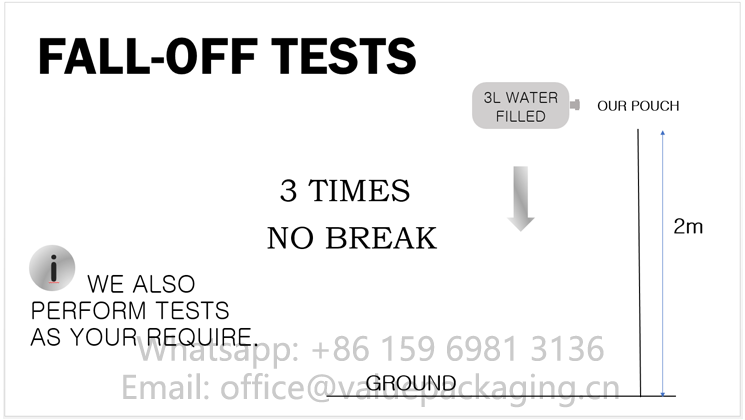 Watch the video for our fall down tests
2 Lower temperature service
For some products like windshied washer fluid and liquid laundry detergent, they need to be used all over the year, especially some North places in winter, the lowest temperature may lower as -30celsius, that will have a severe requirements for the spout doypacks.
Upon our actual experience, our spout doypacks are served in all over china, in Northeast areas in winter days, the lowest temperature may lower as -30~-40celsius, and also our spout doypacks are well served in Canada, Serbia, Moldova, Italy, France, Germany and Netherland, thoughout the year.
Frankly speaking, we never perform fall down test under -30 celsius conditions, as our factory is located in Qingdao, Shandong province, there is not lower temperature in winter, however, when we perform fall down test at 1.5m with 3liter water filled around -5 celsius, the spout doypacks still do not break.
We advise the customers to take our samples and perform fall down tests at your own place, and please reach us for free samples.
3 Good standing effect after filled
The products need to present a good image on the goods shelf, that of course will need the spout doypack to be with a good standing effectwith 3liter liquids inside.
Upon our experience, if you insist a quite good standing effect for 3liter spout doypack. please choose the thickness less than 210 microns, otherwise you can choose 180 microns, as this will help you to reduce price by about 3%.
Let's take a look at our 210 microns 3liter spout doypacks.
4 Cleaning Chemicals Resistance
When the spout doypack is intended to pack windshield washer fluids or liquid laundry detergent, the pouch/spout/caps will all have to be resistant to the chemical formulas.
This is really not joke, never take it for granted that the spout doypack will perform well just with your chemicals filled in. I came unexpectedly to an accident for another customer, that the spout/caps used is not determined for liquid chemicals purpose, some time after his products were filled, the chemical formulas start corrosion on the spout/caps inside, and finally the chemicals leaks out, with so many loss in their distributors warehouse.
After many years of use experience for spout doypacks, we have come to a mature senario for most of the cleaning chemicals in the market, and now we have been stable and quality supply for many cleaning chemical manufacturers.
5 Quality print
An attractive design, plus quality print will automatically increase the consumer attention, and mostly will help increase sales for most products. At present, our print presses are equipped with in-line print inspection system that will help to remove 98% print defects, and our print shall be realize in quality against customer artwork.
However, to actually make a spout doypack more attractive, an attractive design is much more important, that's why I spent so much time studying the other designs on Behance, Flickr, and Pinterest. I believe, even though I am not a designer, however, I do have the responsibility to assist my customers with better design and branding.
Ok, hope this article is helpful for these custoemers who are looing for reliable producer for their spout doypacks from China.