Everyone would like his logo clearly and vividly printed on the packages, appealing the consumers with attraction. Generally, the package is printed in CMYK color mode, with some other color needed if the customer is willing to make his logo highlighted or package more attactive with colors shown in the below graphic.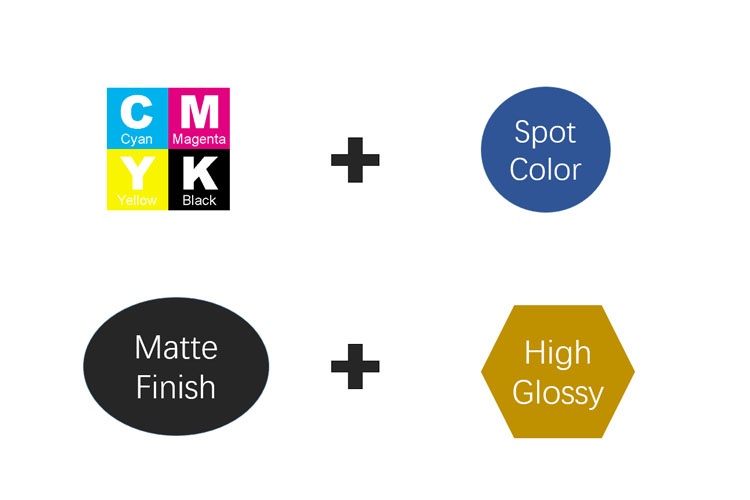 and as a reliable provider for package printing services located in Qingdao, china, we are going to give a brief introduce one by one.
CMYK Colors

CMYK colors are the press colors intended for the package printing. Generally, most colors can be realized the the overlapping of these 4 basic colors, and each color will need a separate cylinder to realize the ink coating.
In actual package printing, usually there will have to be a white ink background to make the artwork print more solid and vivid, otherwise a half-see-through print will not be able to create a reliable profile in front the customers.
so there will be 5 cylinders (CMYK+White) needed for the artwork print for normal packages.
Spot Color
A spot color is a color generated by an ink (pure or mixed) that is printed on a single cylinder. Usually, when a spot color is applied, it is able to realize better effect than the color overlapping effect of CMYK basic colors, as the large background for the Big Nuts Package, it is printed in single color, that is able to create large pure color block, and avoid the color blurring that may be caused by color overlapping.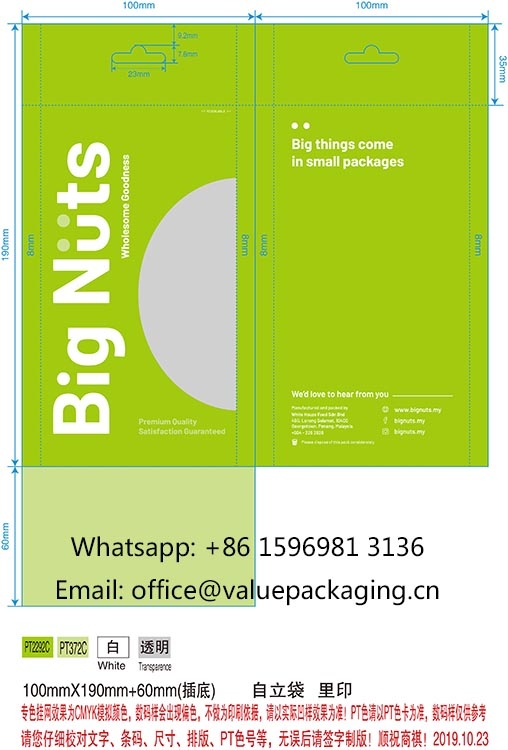 If there is too many spot colors in an artwork, then the artwork may be adjusted, as the cost for spot color cylinders will be too much. you may read more here: Change spot color to CMYK colors
Matte Finish
Matte Finish is to further print a layer of matte ink lacquer on the top of artwork print, so that is able to create a matte and non-reflective effect for the package, the print theory is as below graphic.
There will surely be an extra cylinder specificly intended for coating matte ink ink lacquer.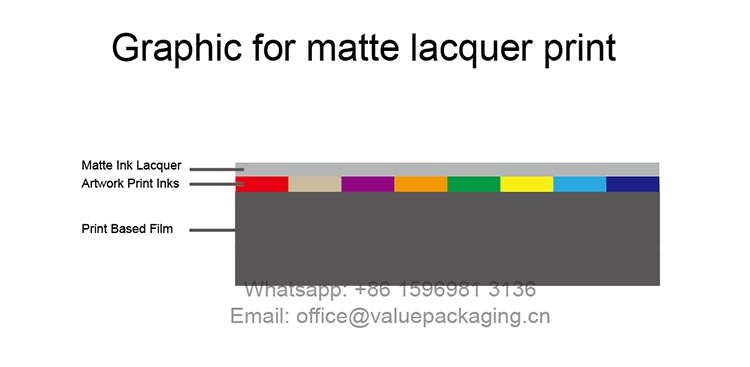 High Glossy Highlight
In some cases, some customers would like to highlight their logo or figure or text in high glossy, which is in contrast with the matte finish. you can view the video below.
Golden Color Highlight
Golden color highlight is smiliar to high glossy, the different is just highlight the logo, text or figure in shiny golden color.
However, there are too many variants for golden colors, and oftentimes, the exact golden color can not be well figured our just through pictures or videos, as there is color different when the video/picture is taken. so if you would like to learn more on golden color highlight, you may read article here: Golden Color Highlight Examples, and reach us for exact samples for local study.
Ok, generally, these are the colors needed to realize a package print, with one color needing one cylinder to realize the coating. So, the more colors in your artwork design, the more cylinders you will have to pay, and accordingly, the print cost is higher with the increasing number for the colors. That's why the artwork will have to be sent for us for final review and evaluation.
Anyway, we will do our best to realize the best effect for your package print at the lowest costs. Just reach us for assistance if you have other questions.