For clear stick package for honey products, usually the foil laminate is realized in 2 layers, that will enable the consumers to see the products inside, as below photo.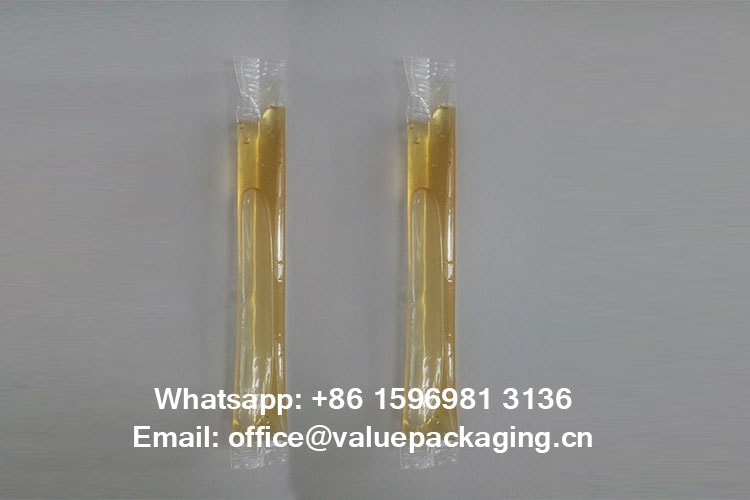 Other than the clear stick package, the triplex foil laminate usually combine another layer of metallized PET film into the foil structure, which would be of better packaging for honey products, with some further advantages as below.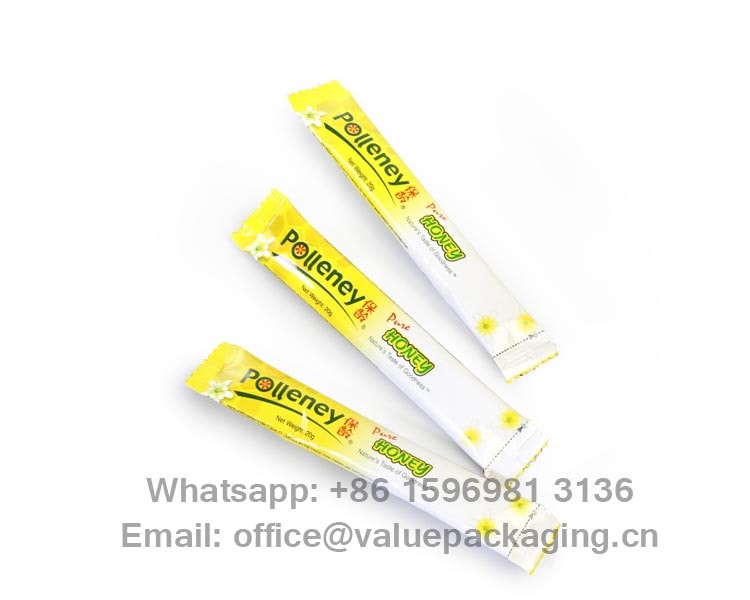 Protect honey products from sunlight
Longer shelf life
Better print effect
What comes the bad after-effect is the consumers can not be able to see the products inside, however, the triplex foil laminate worth it.
so in this post, we are going to give a rough explain on the triplex materials, and hope it would be helpful for the customers to choose the best materials for their honey products.
BOPP/VMPET/PE

BOPP film, with thickness 18 microns (can also be available in 20 microns and 25 microns), is one of the most used print substrate in flexible packaging. The triplex foil laminate realized by this structure is somewhat soft compared to PET/VMPET/PE, and be able to create good hand feeling that is highly appreciated by the consumers.
However, it is not able to realize matte lacquer matte on this structure, we need to move to below structure.
MatteBOPP/VMPET/PE

Matte BOPP film is able to realize full web matte finish effect without applying the matte lacquer, as matte BOPP film itself is with some haze on the outside that can present matte finish effect to human naked eyes.
PET/VMPET/PE
In this foil laminate structure, PET film works as the outside print substrate, and some properties improve a lot as of the better adapt ability for PET film in packaging processing.

Compared to BOPP/VMPET/PE, PET/VMPET/PE is able to improve in below properties
Stiffness
Mechanical property
Higher temperature resistance
Better outside appearance for final package
you may know more in this article: What's the difference between BOPP/VMPET/PE and PET/VMPET/PE
Matte lacquer finish can be realized in full web or part web on this foil structure, as the matte lacquer ink is realized on top of PET film, as below

As to part matte finish, it is widely welcomed by the customers who want to make their logo, text specially apparent to the consumers, look at the below box bottom pouch intended for dry nuts packaging with the logo outstanding.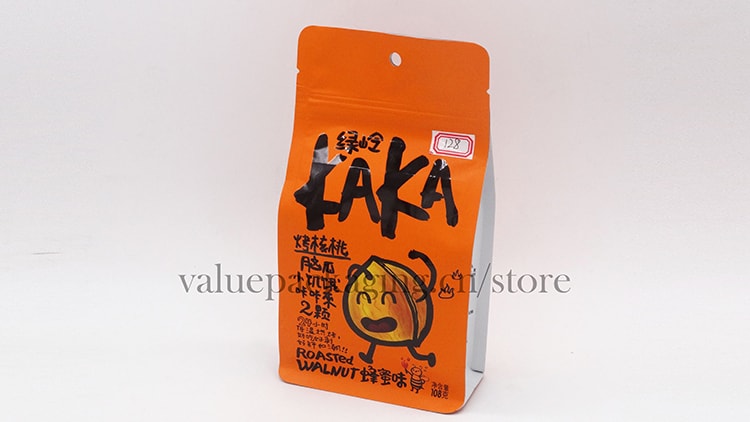 Ok, that's all. If you have any questions, you may jsut leave a comment below.