1L standing spout pouch is widely used for many products like liquid laundry detergent, windscreen cleaning chemicals, juice drinks, liquid fertilizer, semi-liquid foods, etc, and to make sure the package is able to fulfill customer purpose, the foil materials will have to be seriously adopted against the customer particular need.
In this post, we are going to illustrate the foil materials we choose for our customers, and hope this post will be helpful for yout to decide your own package.
PET/PA/LD-PE

This foil structure is well intended for the products that will require a stiff and rigid package, and create a good standing effect when 1L liquid product is filled into it. For our customer, this package is mainly used to pack washer fluids, liquid laundry detergent, fabric softner, semi-liquid foods (that does not need to be protected from sunlight), juice drinks.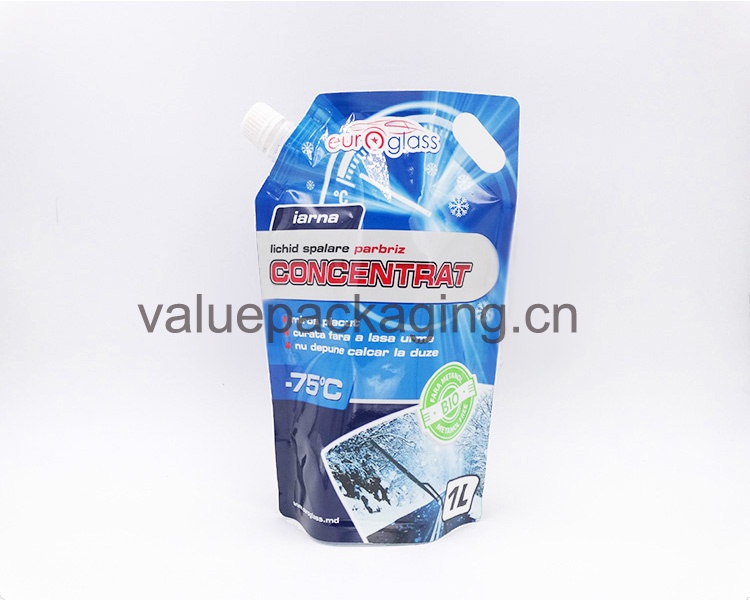 Read here for more understanding.
PA/LDPE
Byond any doubt, the standup pouch made of PA/LDPE is softer than the standup pouch made of PET/PA/LDPE foil. so usually this foil structure can only be adopted if you do not prefer a good standing effect for your 1L package, like sauce or cat litter products are packed in this foil pouch.
Watch video to understand its softness
PET/AL/PA/LDPE

This foil structure is well intended for products that require great barrier performance for the package, like juice, sauce, ketchup, liquid food. This is the best barrier package we can provide for our customers, as usually aluminum foil is considered as nearly zero for WVTR (short for water vapor transmission rate) and OTR (short for oxygen transmission rate), check table as below.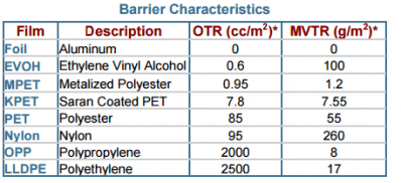 With PA film combined, this 4-layer structure is able to provide the best physical strength for final package.
Read here for more understanding
PET/AL/PET/LDPE

We apply this 4 layer strucure by replacing the PA film with a PET film layer, as usually the price of PET film is only 1/2.5~1/3 of the price of PA film. If a customer is stoutly insistiing on a lower cost package, we will choose this structure.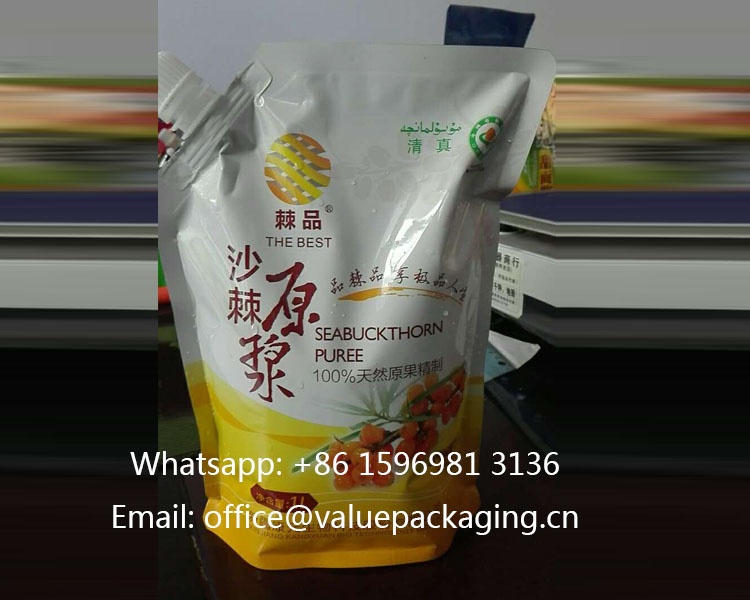 However, under any circumstances, we will not just follow lower initiative regardless the risk for breakage in transit or distribution activities.
Allow me to show you some cases
PET/PE for 1Liter Liquid Pouch
Upon our experience, PET/PE foil pouch can reach a maximum package volume of 500ml, and when it is intended for 1liter, undoubtedly, when the package fall off from the sheleve, it will break, not to mention the unexpected shock in delivery.
We ever perform drop test of 500ml spout doypack with PET/PE structure, filled with water, and drop from 2m high, it broke at the first drop, that is far behind the 3 drops for PET/PA/LE pouch. you may watch the video below for the drop test of 500ml pouch
Read here for more understanding
PET/AL/PE for 1Liter spout pouch
When the products needs to be well protected against oxygen and sunlight, aluminum foil should be applied, as explained below. However, some suppliers may just quote a lower price and claim the pouch is finalize with aluminum foil laminate, however regardless the true property of this triplex materials.
Upon our experience, PET/AL/PE foil laminate can reach about 250ml~300ml spout doypack package for liquid products. The more volume it packs, the higher risks for the breakage in final serving.
Metallized Foil for 1Liter spout pouch
By using metallized foil, I mean the foil laminate that contains a layer of vacuum metallized film, usually short as VMPET, with structures as below
BOPP/VMPET/PE
PET/VMPET/PE
PA/VMPET/PE
……………………..
VMPET film is acheived by coating a layer of thin alumium atoms onto the surface of PET substrate, with much lower bond strength when it is laminated with other substrate materials, that is below the standard of a 1Liter pouch. Keep in mind, do not choose metallized foil laminate pouch for 1Liter liquid package.
OK, we come to the end of this post. If you have any other questions or need our further assistance, just give us a email shoot.