When it comes to 3L standup pouch package for windscreen cleaning chemicals, the most important and fundamental point is great bag strength. The standup pouch package should never be allowed to break or leak during filling, transport and distribuion process.
As a reliable manufacturer for these standup pouch packages for many brands of windscreen cleaning chemicals, we would like to share our experience: How to evaluate the strength, and the QC and inspection work we are doing in our daily produce.
Actually, there are 3 points we need to evaluate, that will finally form the strength of these 3L standup pouch packages, as below.
Materials strength
Well sealed in bag-making produce
Well welded in connection with the spout
We are going to give a further analysis on each of these points.
Materials Strength
Materials are the fundamental basis to realize standup pouch package with great strength, as upon our expeirnce for produce, we insist two structures for 3L standup pouch package, as 3L windshield washer fluids weight about 3kg, that is quite a weight, bad materials will just not fulfill its function.
PET12/PA15/LDPE(150-190microns) (LDPE film should be modified)
PA15/PA15/LDPE(150-190microns) (LDPE film should be modified)
We are testing the strength for the foil laminate in our daily inspection, and you can find the video for testing PET12/PA15/LDPE150 for liquid fertilizer standup pouch.
Well sealed in bag-making produce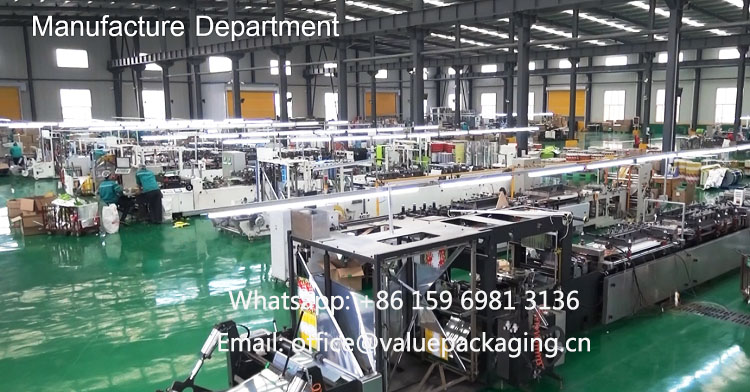 The pouch well sealed means the good combination of foil laminate and forms into standup pouch, if there is any fake sealing in any points of the doypack, then it will not be well intended for liquid products packaging, it surely leak.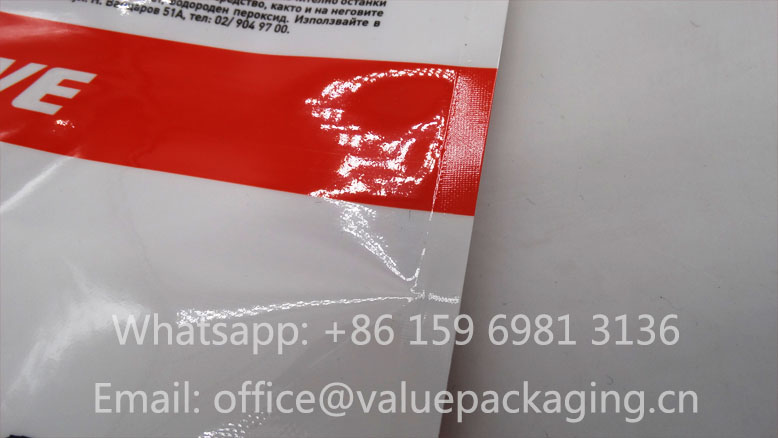 We need to take measure to check if the arround edge is well sealed or not in the daily produce, and usually we perform in 3 ways.
Penetration Agents
Penetration agents is an assistant chemical agent with color that is able to pass through very tiny holes that are not solid blocked, so that's why we use it to check if the doypack pouch is well sealed, as below.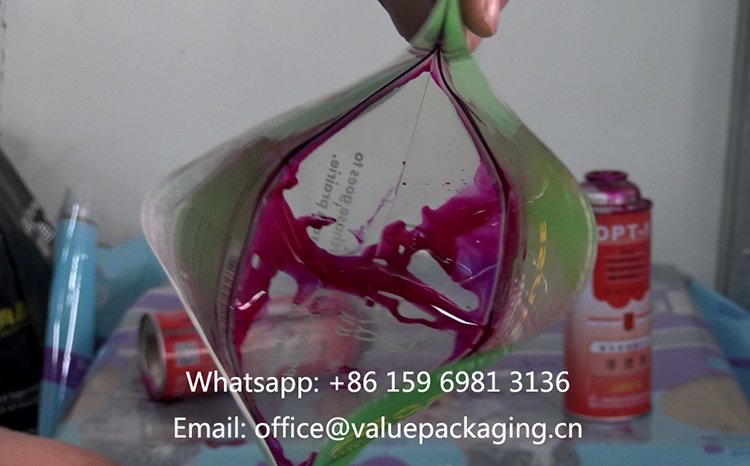 Single Point Seal Strength Test
Single point is the most reliable way to check if all around the doypack is well sealed, if means we have to cut the doypack into stripes, as narrow as possible, and test the seal strength on each point.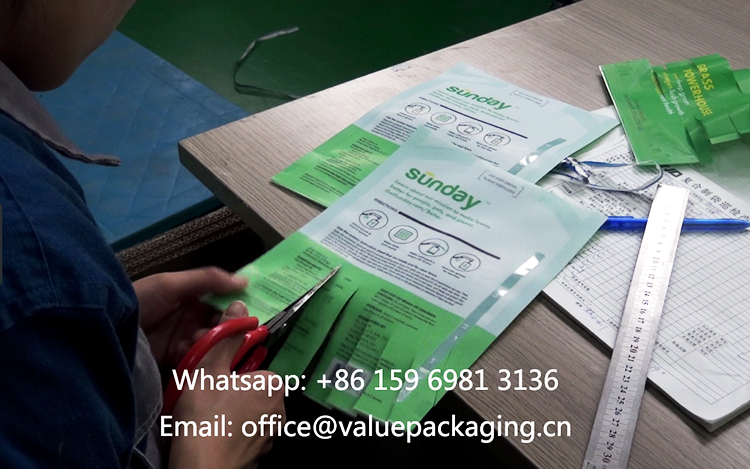 Just watch the video to understand more.
Rigid Sharp Angle Test
Rigid sharp angel, like the steel ruler, is just an assistant measure, as compared with doypack cut into stripes, it takes less time. The operator needs to use much strength, as below.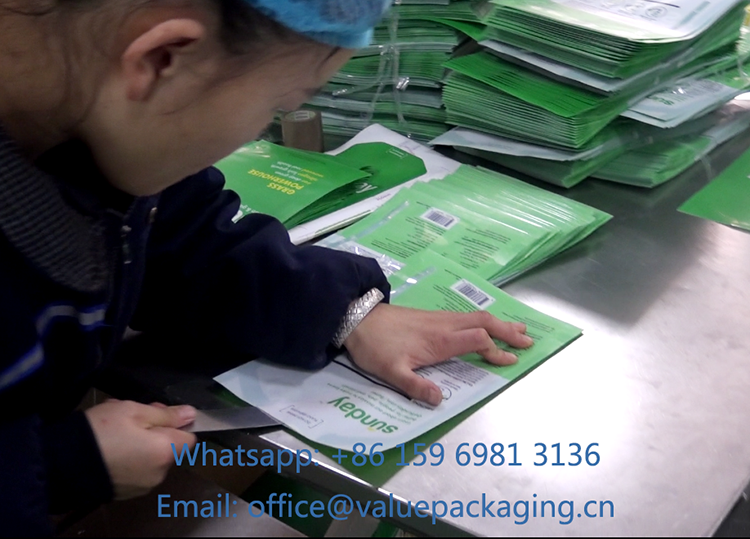 You may watch the video
Spout well welded with doypack
It is most essential to get the spout welded with the doypack, however, anyone can not just tell if the spout is just welded by naked eyes, even for our inspection professionals.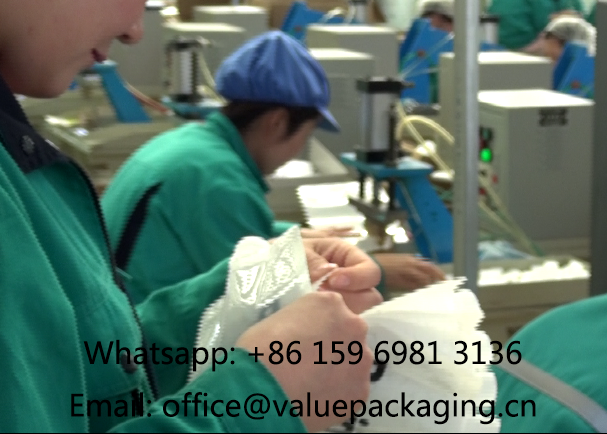 so we have to fill the doypack with water and drop horizontally, as when the doypack drops horizontally, as below photo.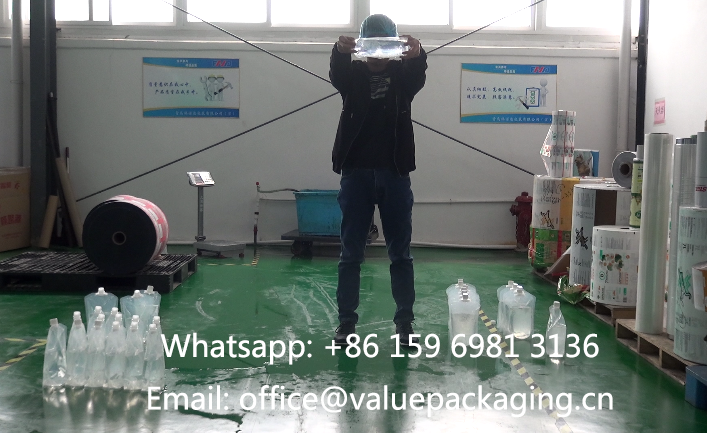 The spout welded place will suffer great impact strength, and we will decide if the spout is well welded to the doypack.
So finally, even with all the inspection and test work in our daily produce, we will have to come into drop test with doypack filled with water, that's the final reliable test the pouch strength for 3L standup pouch package.
Let's watch the video.
Drop Horizontally
Drop Vertically
So this is our evaluation for the pouch strength for spout doypack, and finally, we will achieve a good 3L standup pouch package that can be well intended for the packaging of windscreen cleaning chemicals, and it should never leak or break for your processes.
If you have any questions regarding the QC and inspection work in our daily produce, you may reach us for further assistance.