Without any shadow of doubt, each and every coffee roaster is looking for perfect package and branding for his own coffee products. As a reliable and serious producer for coffee bags packaging, I always do my best to realize the quality for the customers coffee bags orders, and here I am honest with the quality we can achieve, and how to evaluate the quality of coffee bags produced by china factory.
In my opinion, the quality of coffee bags by some china factory is really improving, however, I do not mean the coffee bags by each of the factories is improving. As you know, china is a big market with many different levels of factories, there are many factories producing lower level bag products for Africa market, you will never rely on them to produce great quality cofffee bags.
so, let's come into the subject.
1 Materials
Materials is the first step for the quality of a coffee bag, however in most cases, any customer can not just judge the quality by the norminal material the factories used.
Take kraft paper for example, based on my understanding, there are about 6000 variations of kraft paper in china market, with different quality, different application and of course, different prices.
You can just look at the rigidity of the two kraft paper bags, even they are in the same norminal materials: KraftPaper/VMPET/PE, they really present quite different profile effect.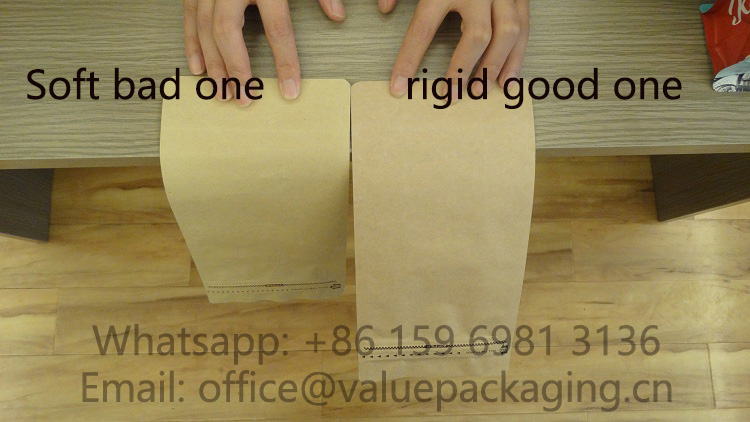 The left one (produced by a factory in South China) is soft, and easy to bend, it uses a very lower quality kraft paper, however, the right one (produced by our factory) is made from good kraft paper, with much better rigidity, you may learn more details in this video.
2 Good Quality print
At present, gravure print is the main method to realize the artwork design, and based on my understanding, the print quality of china printers differentiate in many levels.
To be honest, the print quality for our factory is not able to meet the requirement of top brands, such as P&G, Henkel, however, we are really a good printer for most middle and small brands.
Our print machines are equipped with in-line print system, that is able to remove 98% print defects, you may watch the video
Also, we are going to provide samples of your print orders, for your confirm, before our delivery
3 Serious bag-making
There are many small details, that will deteriorate the final bag profile if not well controled one by one, like the sealed edge, the rounded corner, the tab zipper.
At present, our coffee bags are hardly to be perfect in each detail, however, we are always obligated to the qualiyt we commited, and wee will never accept your order if our quality do not meet your requirements.
You may have a further understanding by this video