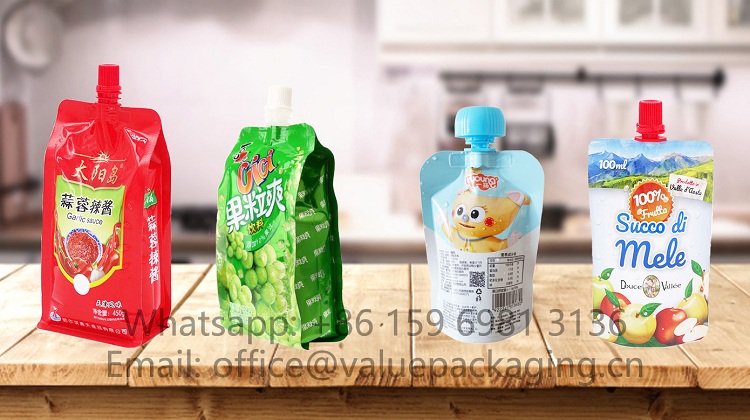 Spouted standup pouches are becoming more and more widely used for many products, like juice, sauce, ketchup, liquid household cleaning chemicals, windshield washing chemicals, baby food, liquid soap, liquid fertilizer etc, and creating bright attractive packages other than plastic bottles or jar, or other rigid containers.
Most plastic bottles are produced in blow molding and then labeling when the products is filled at the customer's plant. However, the produce of spouted standup pouch is quite different from produce of plastic bottle. In this article, we are going to explain how the spouted pouch is produced. I believe, this will be helpful for some customers to understand below questions.
why there will be extra charges on print cylinders
why it will have to take 20-25 days to produce an order
Ok, let's come into the subject.
Deciding on bag type
Before producing a spouted standup pouch, the bag type will have to be decided. As for standup pouches, there are 3 most common bag types that are able to present products in different package effects and costs.
Bottom Gusset Spouted Standup Pouch (Doypack)
Below items are some common spout pouch with bottom gusset that can stand well on the goods shelf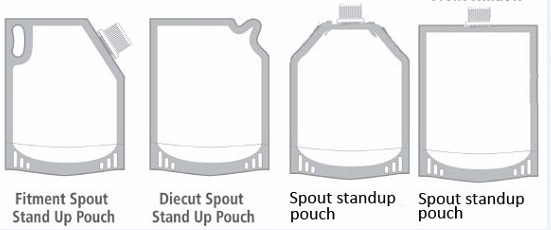 This pouch can stand on the shelf as when the product is filled into the package, the gusseted bottom expands and works as a strong support for the product body weight.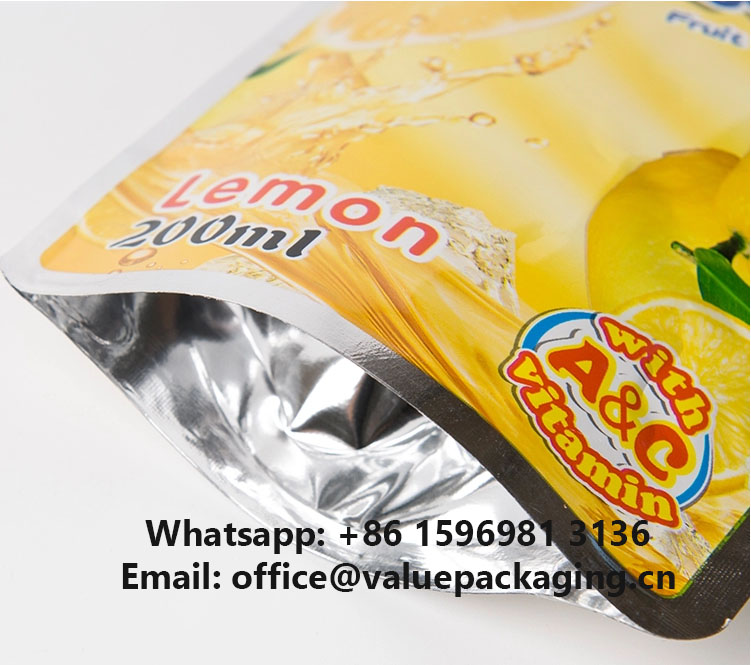 This pouch is the most commonly used spouted standup pouch as of good standing effect, lower cost, easy to produce, etc. Most juice products, yoghourt, baby foods are packed in this package.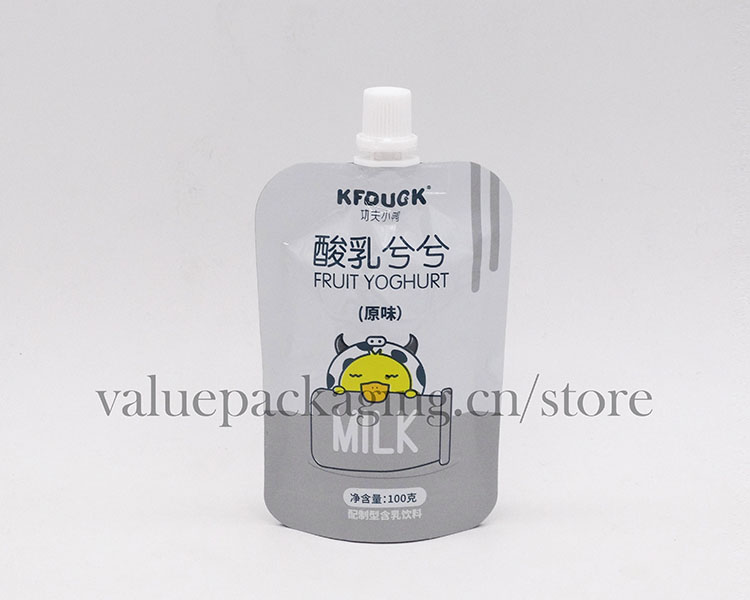 Side Gusset Spouted Standup Pouch (CheerPack)
This pouch get gusset in the side, and it can only standup when the package is filled with product, and it gets expanded. As you can see the matte black pouch with water filled, and present a very good standing effect.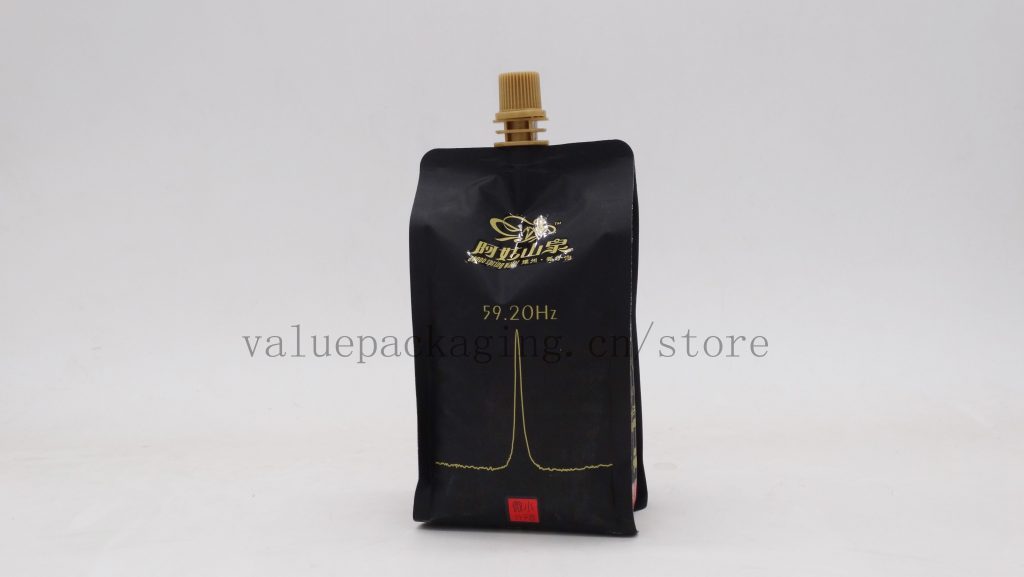 However, not all the side gusseted spout pouch will be able to present good standing effect even with the products filled. One common reason is the foil structure, if the foil structure contains aluminum foil, and the bottom sealed part will be somewhat rigid, and even the products filled, it still can not stand well.
Read this article for understanding more.
Box Bottom Spouted Standup Pouch
Graphic of box bottom
This pouch has a bottom much like a box, that's why it is called box bottom pouch. This pouch is able to hold more volume with same sizes, and also stand stably on the goods shelf as its bottom is expanded similar like a box when the product is filled. See the below pouch intended for chili sauce.
Design Template/Artwork Design
Once the bag type is decided, we can provide you the design template to you for your artwork design. Usually the design template will have to be indicated with the sizes, and you should reach us for exact design template for your package.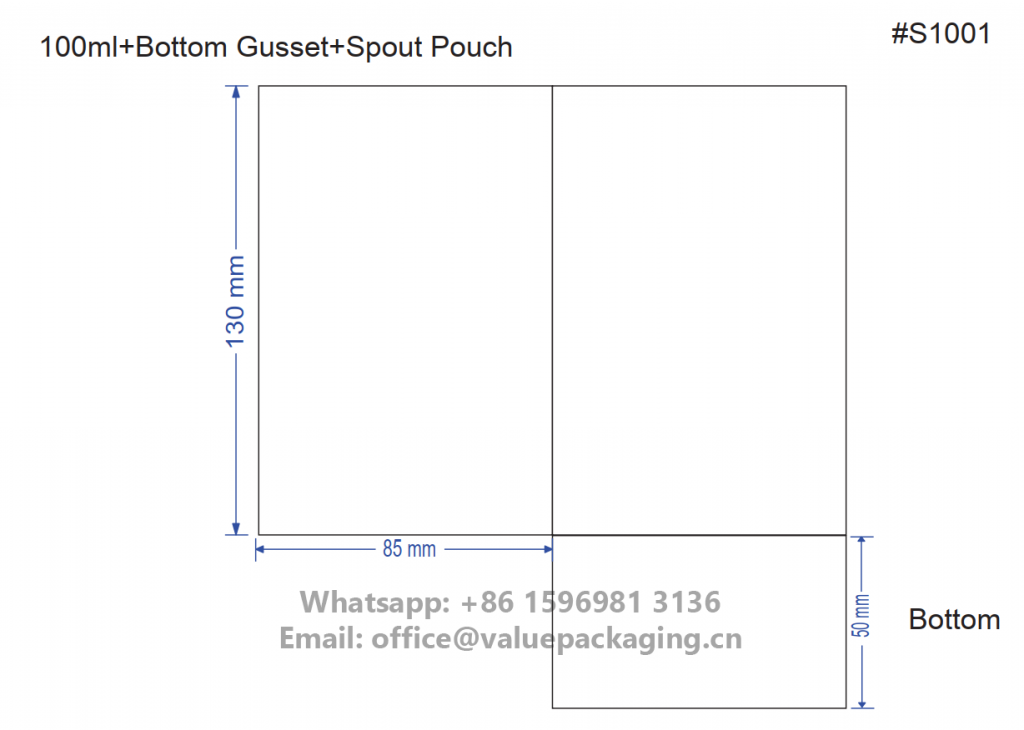 Artwork design is a serious and creative work, that affects how the final package look. The craftsmanship and QC policy for our manufacture process can only ensure the produce of the packages be executed in a serious and quality way. We will share some cases where design make the package superior.
Color Analysis on artwork
Once the customer artwork is finished, the artwork file will have to be forwarded to us for further review, the work are mainly as below.
—- To do color analysis
This will make sure the colors used in the artwork will work properly with each other. As the colors will be finally presented by inks, and some colors of the inks may dissolve when they are overprinted.
—- To do some improvement
Please note, this work is not to tamper your artwork, however, it is to confirm if there is some the part in the artwork that can not be able to realize the expected effect in actual produce, such as some text font are too thin and font size too small, that may not be able to see clearly after print, and it will have to be improved.
Confirm on artwork
After some improvement or alteration for the artwork, it should be finally confirmed before it comes to actual print. As it can not be revocated. The cylinders are going to be made exactly against the artwork. If there is any error spelling in the artwork and is not removed before it comes to cylinder making, then it will come to reality. If the customer want to change the spelling error, we will have to make new cylinders, it is money and time costly.
So, do seriously confirm on the final artwork.
Cylinder making
Cylinders are going to be made against the artwork finally confirmed, and in our daily work, it should take 4–6 days to produce the cylinders. That's why for new artwork order, the lead time is longer than repeated artwork order.
Print
The print will start on the ready of cylinders
Lamination
Lamination means combination of different substrate materials through adhesive, as one mono layer can not provide all the functions a final package requires.
The combination of multilayer structure is decided by the end-use application, and should be decided before the order is placed. We will have to evaluate the very details for customer's use, and make sure the multilayer combination will make it.
Bag-Making
Bag-making process achieve pre-made bags. Compared to the packages realized by form, fill and seal process on the automatic packaging machine, the pre-made bags are much more beautiful, and able to present better package effects.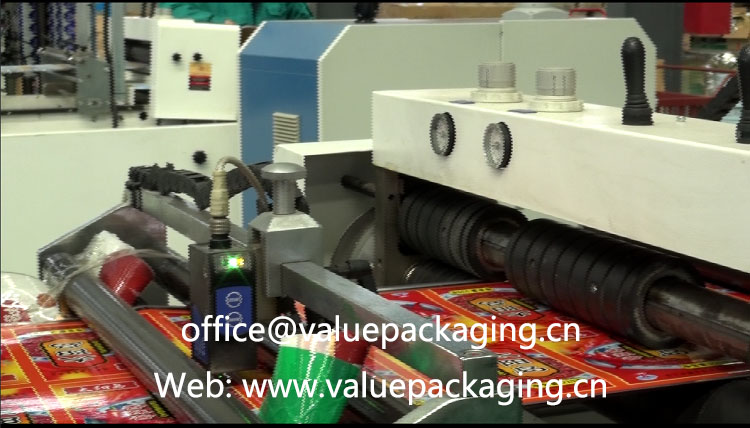 Spout Welding
Spout welding is the last process to make the pouch realized with spout, and after spout welding, the spout pouch can be cartoned and delivered to customer.
There are numerous spouts/caps available with inner diameter ranging from 6~33mm. Usually the larger for the spout, the filling operation is faster, however the spout cost is higher. So, it will have to be serious evaluated and also follow the market need.
Spout Welding Photo
Final Package