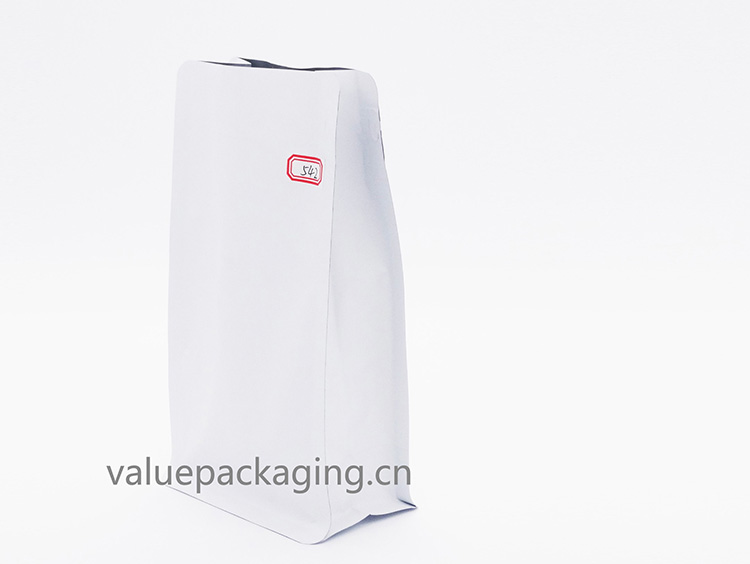 Some coffee roasters would like to present their promotional beans products in coffee packages with full body matte finish effect. After filling of the beans, the white package can be well sealed, labels, and distributed to reletive customers.
Of course, the point is FANTASTIC PACKAGE.
As a professional manufacturer for coffee packages for years, we would like to elaborate each and every detail for the coffee package, which the customers should pay attention to before they move into order produce.
Before we carry out the elaboration, just look around of this matte white bag that a good coffee deserves.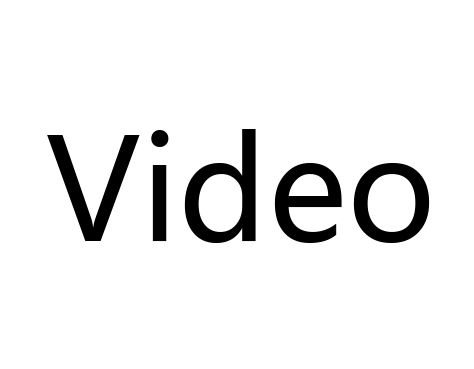 OK, let's move on.
Sizes/Dimension
The first foundamental thing is to confirm the package sizes, as this is the first step for the filled effect and standing profile of your final coffee package. Below outline stipulates the sizes of our 12oz coffee bag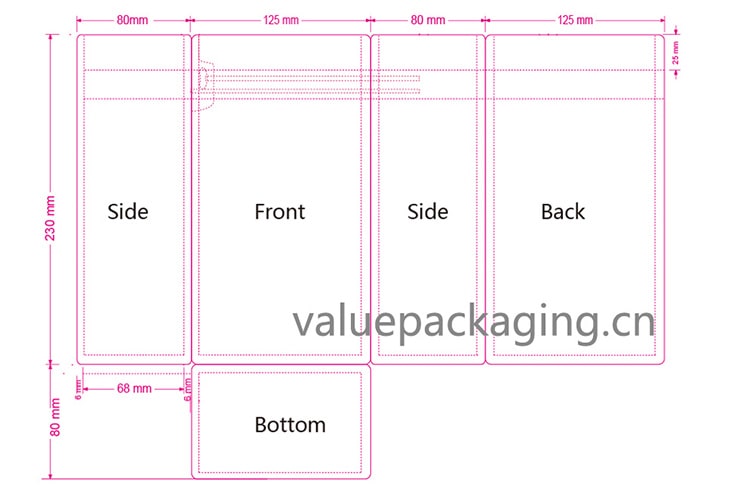 As to bag sizes, you may reach us for reference, and we can also perform a test on your expected sizes and grams.
Foil Laminate Structure
Multilayers will have to be combinted into one integration with different functions to realize the package need for roasted coffee beans, so it is very important to decide the best adaptable structure for your beans. Based on fulfilling the barrier protection requirements for different packages, we are offering foil laminate structure as below.
Metallized Foil Laminate
Aluminum Foil Laminate
AlOx PET Foil Laminate
Please have a clear understanding, whatever foil laminate structure you choose, all the substrate materials are subject to human food health, and against to SGS test.
Matte Finish Quality
When it comes to the matte finish on the whole package, there is more strict requirements applied than the custom print bags. As it is similar to a ink spot on a pure white A4 paper, people will surely notice the sharp ink spot when they lay their first sight onto it. Of course, people will do the same way when they come across to some defects or contaminae spot on a full body matte finish coffee bag.
More seriously, if the matte lacquer finish is not ing good quality, that may very easily cause stracth lines on the surface, that is very bad for your coffee profile.
Luckily for us, we have mastered the crasfsmanship to realize good matte finish appearance and when the bag is finalized, they are nearly free of scratch lines. Watch the video below.
Zipper Choice
Usually, inner normal zipper and tab rip zipper are applied for coffee package, as below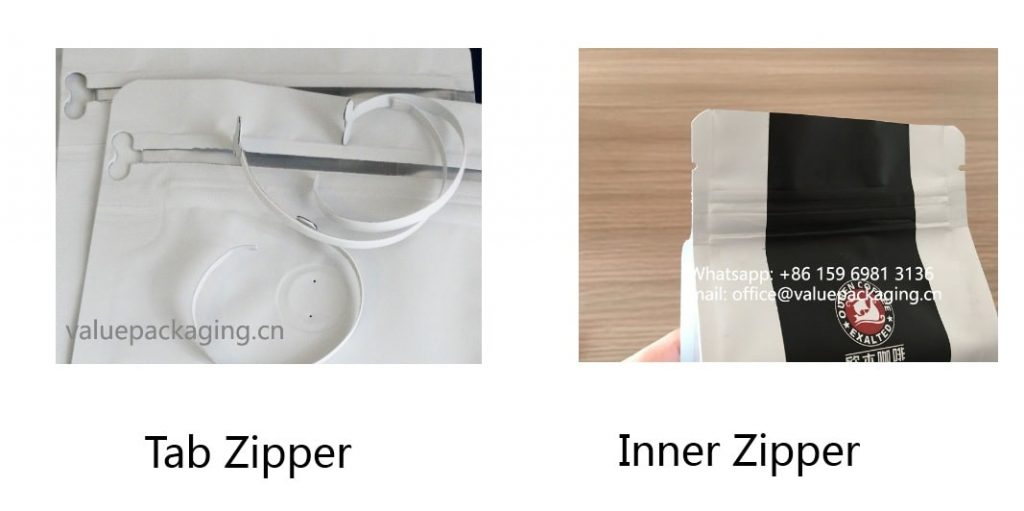 Opening Choice
A big opening on the package is easy to fill the roasted beans, however some customers would also like the small openiong, which is able to present good sealed effect for the package.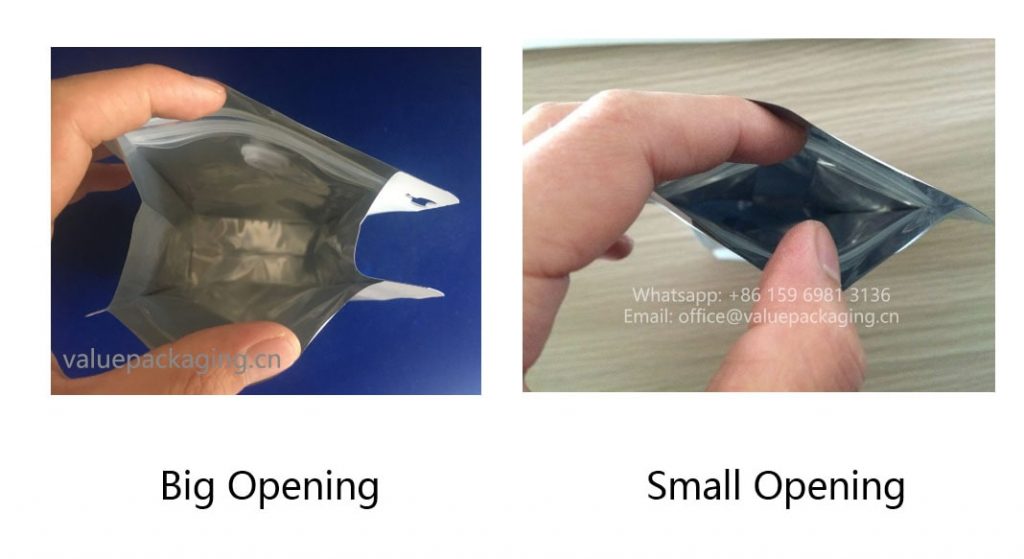 Rounded Corner
In most cases, the corners of the coffee bags should be rounded, to avoid the unexpected damage to human skin with the sharp corner.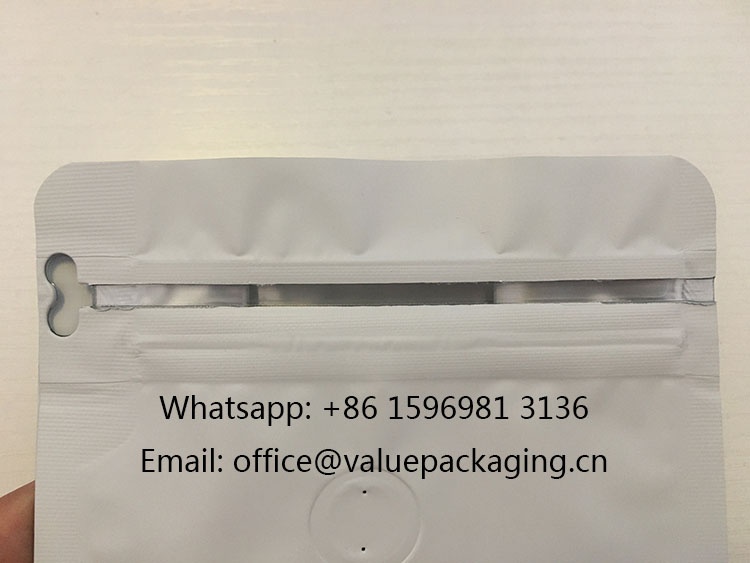 Above is what we have to say regarding matte white box bottom coffee package, and we are going to elaborate the elegant details for our present bags produced for our customers. Enjoy it.